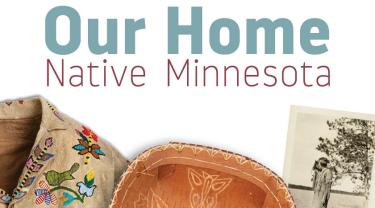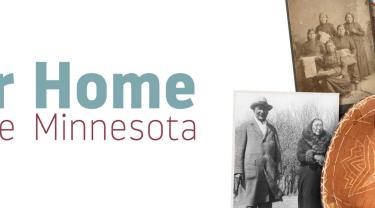 Our Home: Native Minnesota
Now on view at the Minnesota History Center
Ticket price includes admission to all Minnesota History Center exhibits. MNHS Members get in free.
An enduring presence and deep connection to the land.
Learn about Native communities in Minnesota, including stories of survival, resiliency, and adaptation.
Native Americans — Dakota, Ojibwe, as well as people from other tribal nations — have dwelled in this area for thousands of years and still live here today. This exhibit shares their stories, enduring presence, and deep connection to the land.
---
Dakota and Ojibwe homeland
---
Selected items on view
Explore a wide range of objects spanning time periods, traditions, and materials. The exhibit draws on the depth and breadth of MNHS collections and archives, as well as objects on loan, to present the history and contemporary stories of the region's Indigenous peoples.
Image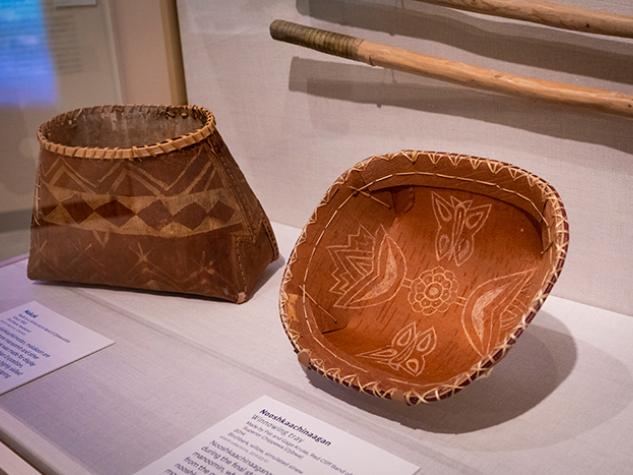 Nooshkaachinaagan (winnowing tray)
Made by Pat and Gage Kruse, Red Cliff Band of Lake Superior Chippewa Birch bark, willow, simulated sinew 2014
Image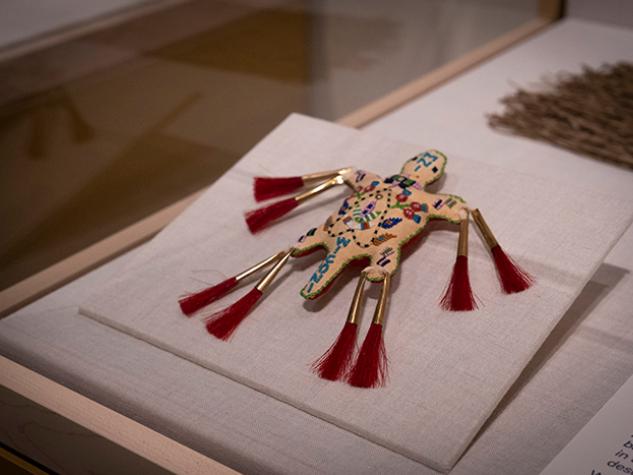 "Mni Wiconi" ćekpa oźuha ("Water is Life" umbilical cord pouch)
Made by Holly Young, Standing Rock Sioux Tribe (Dakota) Brain-tanned leather, glass beads, horsehair, and metal 2016
Image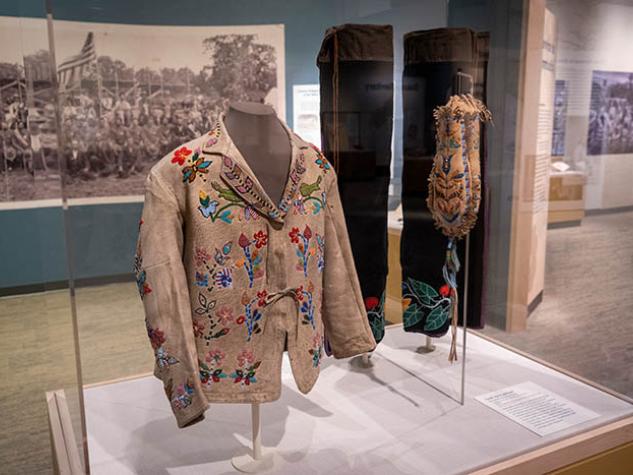 Made by a Dakota artist Late 1800s
Image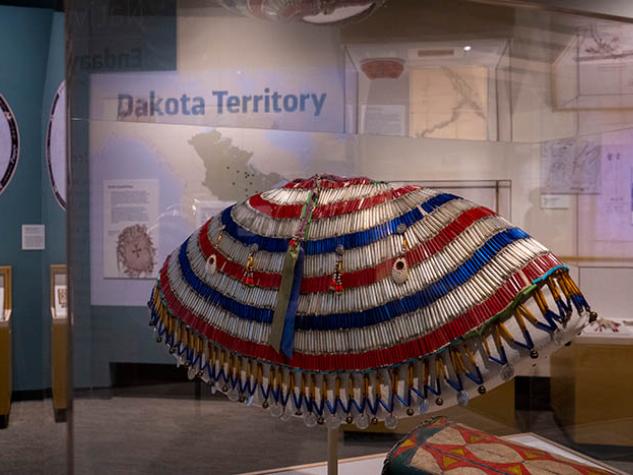 Made by a Yankton artist Early 1900s
Image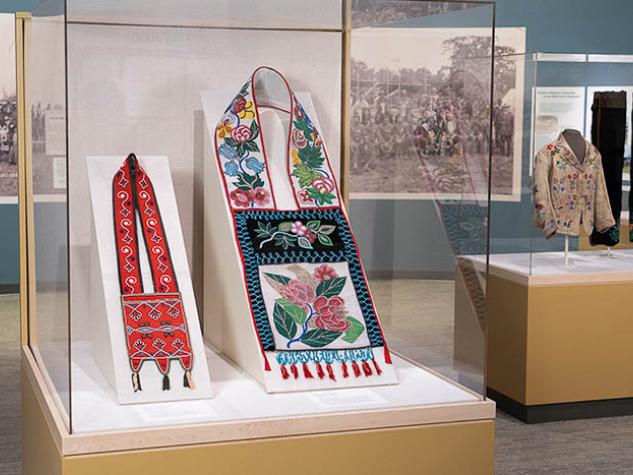 These heavily beaded shoulder bags made and worn by several North American Indian tribes around the Great Lakes are prized cultural icons in Minnesota and around the world
Image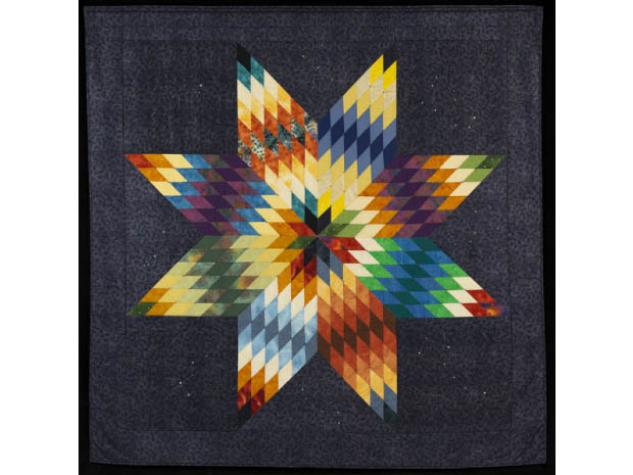 "Star Knowledge" star quilt made by Gwen Westerman, Sisseton Wahpeton Oyate (Dakota), 2014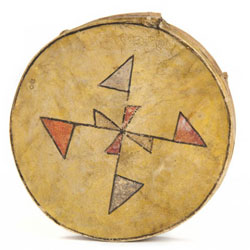 The Seven Council Fires (Oceti Ŝakowiŋ) is an overview of Dakota, Lakota, and Nakota cultural objects that can be found in the Minnesota Historical Society's artifact collection.
Explore The Seven Council Fires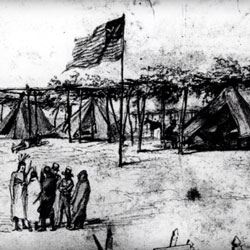 The U.S.-Dakota War of 1862 had a profound impact in shaping Minnesota as we know it today. Learn about its causes and its far-reaching consequences.
The U.S.-Dakota War of 1862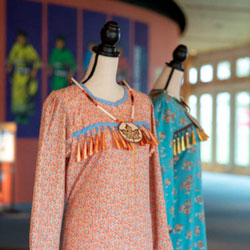 The global influenza epidemic that killed millions of people worldwide in 1918-19 was the tragic inspiration behind a revolutionary new tradition of healing that emerged in Ojibwe communities.
Ziibaaska' iganagooday: The Jingle Dress at 100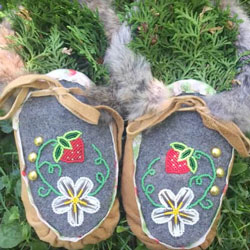 The Native American Artist-in-Residence program was created for the purpose of exposing Native American artists working within traditional art forms to Minnesota Historical Society collections.
Native American Artist-in-Residence program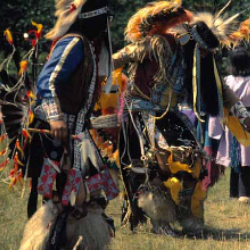 A Dakota person's family history can reach as far back as stories can tell. Elders and other storytellers are often the best guide. This online guide may help with the more recent part of that history.
Dakota family history research guide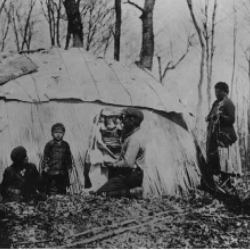 Ojibwe or Anishinaabe people arrived in Minnesota from the east hundreds of years ago by way of the Great Lakes. This guide may help in researching your family history.
Ojibwe family history research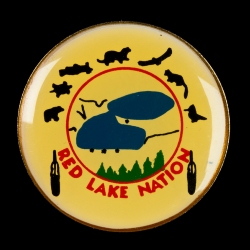 Ojibwe material culture is an overview of cultural objects — totaling over 2,000 items — that can be found in the Minnesota Historical Society's collection.
Explore Ojibwe material culture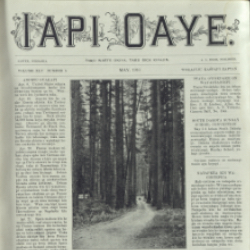 Iapi Oaye, a Dakota-language missionary newspaper, was published monthly, first in Greenwood, Dakota Territory and later in Santee, Nebraska, between May 1871 and March 1939, when it ceased publication.
Dakota language newspaper